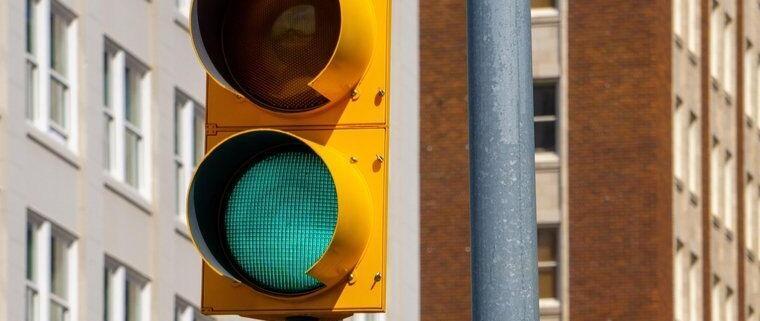 360 Feedback Start Stop Continue Examples 
Start stop continue. This may sound like a variation on a favorite childhood game, but don't overthink it. Start stop continue, also known as the SKS (Stop/Keep-doing/Start) Process, is a simple feedback framework that can uncover rich insights while encouraging continuous improvement in individuals and teams. Before we share some start stop continue examples, let's take a look at how this easy feedback method works.
Start Stop Continue Feedback Basics
It's really as simple as it sounds. Just like a formal 360 degree review, start stop continue feedback is a way for managers to hear from their direct reports about what's working and what they need to work on.
Start: What should leaders, peers or individuals start doing to improve team performance?
Stop: What should they stop doing because it's hurting team performance?
Continue: What should they continue doing because it's helping team performance?
Start stop continue feedback is typically administered by the person seeking the feedback. You can ask your team to respond to an online survey, they can write down their responses on 3×5 cards or the feedback can be verbal. There's really no right or wrong way to do it.
One final note before we share start stop continue examples: Just because this feedback framework is straightforward and not particularly groundbreaking, that doesn't mean it always will be effective. Good feedback, regardless of the method used, is contingent on having strong relationships and a culture that values development and growth.
Getting Better Team Feedback: Start Stop Continue Examples
We've developed the following start stop continue examples. Use them to model your own start stop continue responses or provide them as examples when soliciting feedback from your team.
Jisoo was recently promoted to creative director at a mid-size marketing agency. She manages a team of seven designers and reports to the owner of the company. Here's a sample of the feedback Jisoo received after a recent start stop continue feedback exercise:
Start: "I think I understand why she does it—to give us space to be creative. But Jisoo should start chiming in with her feedback earlier in the creative process. It would save time. Clients would be happier with us, because we'd get them concepts sooner, too."
Stop: "Jisoo has been doing a great job as a leader, but I think she requests too many meetings. Some of her meetings could have been an email. Fewer meetings would mean more concentrated blocks of time for client-facing work."
Continue: "Jisoo is so organized! In the creative field, that's not always something you see. I definitely value that in her."
Cayden works at a nonprofit that addresses food insecurity in his community. Like with many nonprofits, its staff is lean and each member wears multiple hats. They recently did a start stop continue exercise as part of a staff retreat. Here's what Cayden's teammates said:
Start: "Cayden has been here for as long as I have, but I feel like I don't know him at all. Relationships are important in teamwork, and I think if he started socializing more with the team, we'd work better together."
Stop: "Cayden always participates in meetings and his passion for our mission is clear. But sometimes in meetings he cuts people off and interjects before they're finished. It seems like it discourages others from speaking up. I think he should try to curb that behavior."
Continue: "In this line of work, being able to switch from task to task is critical. Cayden is always willing to jump in where he's needed. Keep up the good work!"
Alexis is the owner and founder of a vegan pet treat company that is experiencing rapid growth. Their team has grown from two full-time employees to 14 in the past six months. During a regular 360 degree feedback session, employees were asked to identify things Alexis should start, stop and continue doing. 
Start: "Our meetings are always focused on what we need to change and what we can do better. It would be great to hear more positive feedback from you on a regular basis. We've been doing great work and it shows!"
Stop: "It seems like you work well under pressure, but I prefer more lead time on projects. Can we stop waiting until the day before something is due to start working on it? It's not how I work best."
Continue: "We've added so many people and yet it feels like this is the team we've always had. You do such a great job making everyone feel welcome and like they belong."
Use These Start Stop Continue Examples to Improve Feedback in Your Organization
While the specific details will definitely vary, you can still use these start stop continue examples in your organization. For starters, share them with your team before they sit down to their next 360 degree feedback survey. 
https://g360surveys.com/wp-content/uploads/Getting-Better-Team-Feedback-e1666892149880.jpg
818
760
Staff
https://g360surveys.com/wp-content/uploads/2017/06/G360_logo_final_720-300x120.png
Staff
2022-10-27 18:02:30
2023-08-29 16:55:52
360 Feedback Start Stop Continue Examples